After leaving the parts of the roof to dry overnight, while compressed, to keep them flat, I began to finish the construction this afternoon.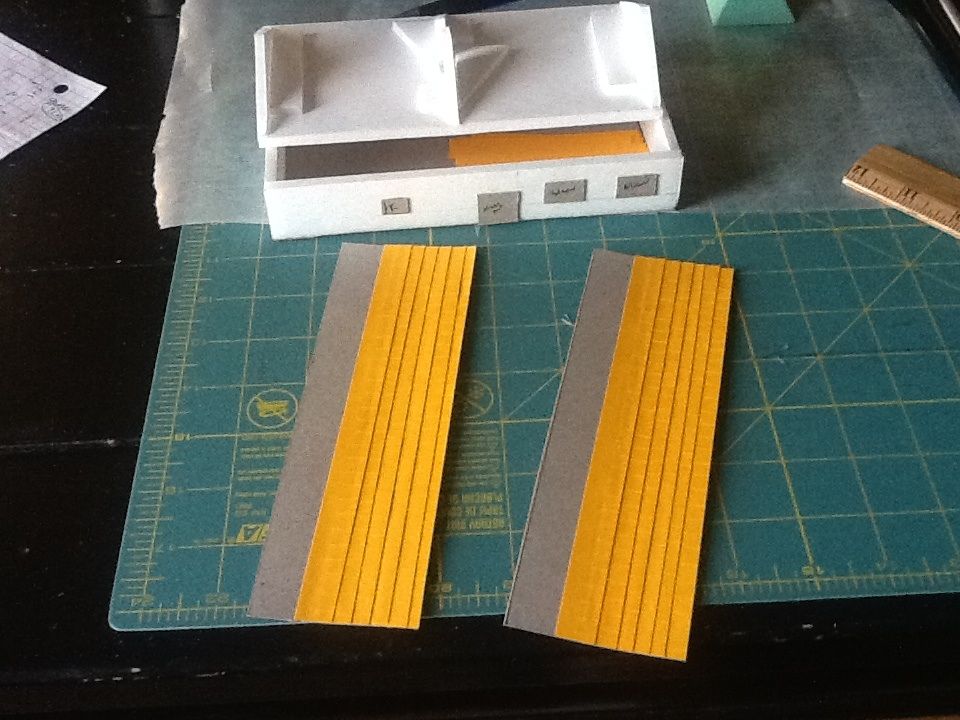 Two halves of the roof, the roof base, and the house.
I used the tried and true method of cutting strips of thick paper in widths of half an inch, and length of 11 inches, then I sliced them crossways, about every quarter inch, half the width of the paper.
I then glued all of the exposed edges of foam. As I may decide to primer the model with a spray, which would eat the foam.
You can see that I added bracing to the roof base, as nine inches or so of cardboard is not strong enough on its own. I only have three pieces of 5mm foam to glue to, each side. Next time, I will have at least five pieces per side, increasing strength of structure and likelihood that the roof will stay attached to the base section.
I pinned the roof halves in place, to make sure everything would fit properly, then I glued each half to the base.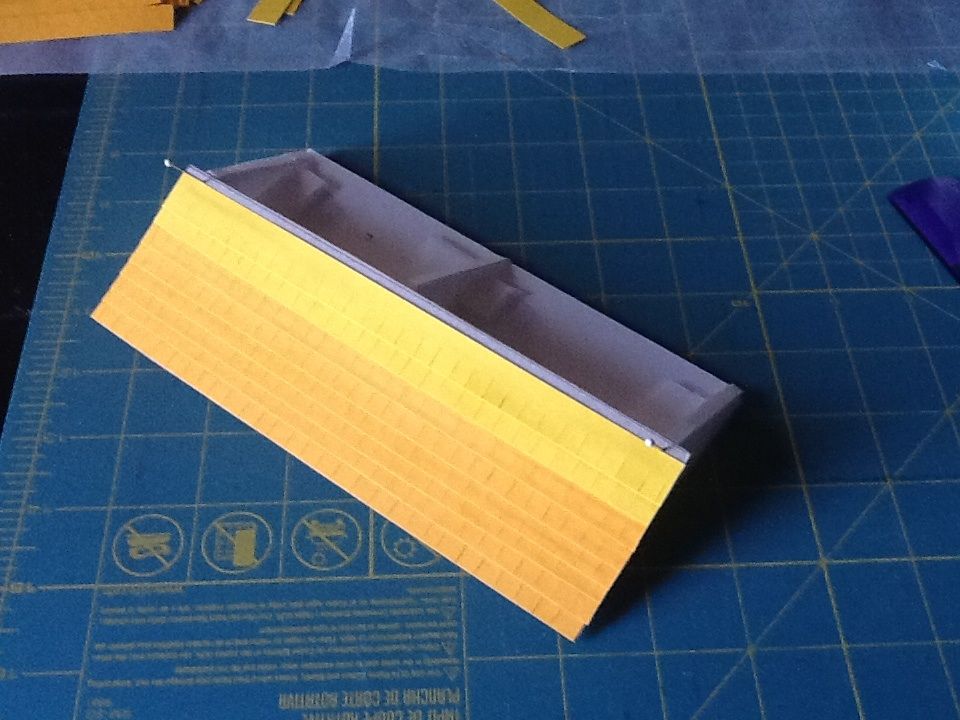 You have to be careful when pinning, as if you insert the pin at an angle, you may poke through the paper of the foamcore and prick a finger, which I did not do. I was sure to be careful.
Here is when I realized 3 bracers per side were not nearly enough, but it was too late to fix it.
After gluing both halves to the roof base, I set it aside.
I then "liberated" some builder's sand from the garage.
Which I then glued to the house structure, using slightly watered down white glue. This would, hopefully, give the appearance of stucco, once everything is painted up.
The sand must be very fine indeed, otherwise it would not resemble stucco at all, but rather a crappy rocky exterior.
With the house now drying, I picked the roof back up and saw that the edges were a little loose. So, I cut some tiny strips of paper, folded it, and then glued those on the underside of each end, to add strength to the joins there.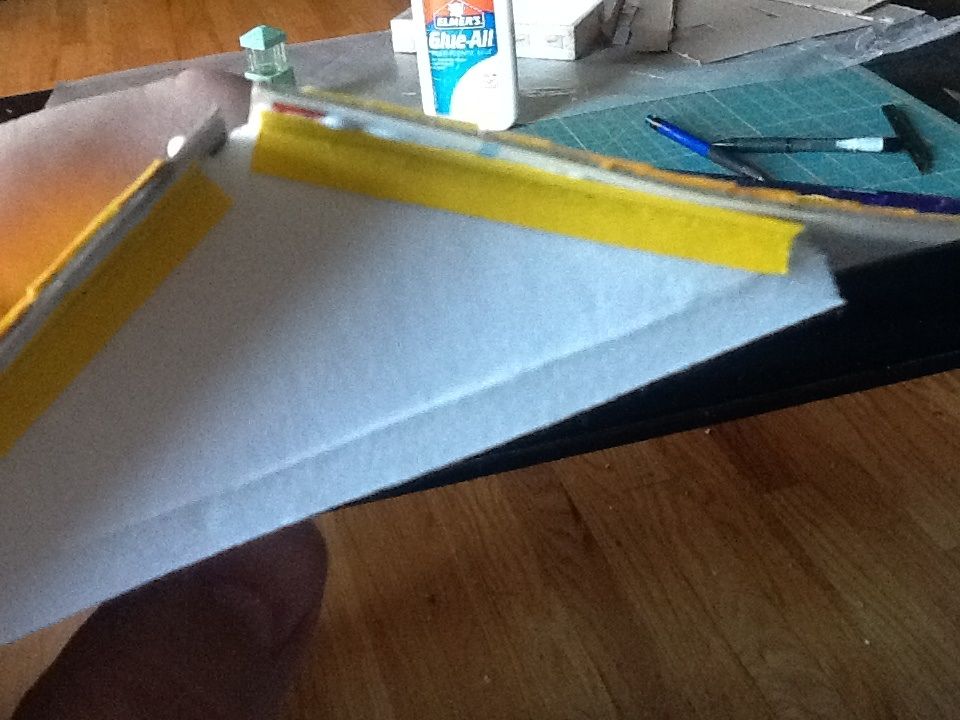 With everything dry, I checked the look of the house.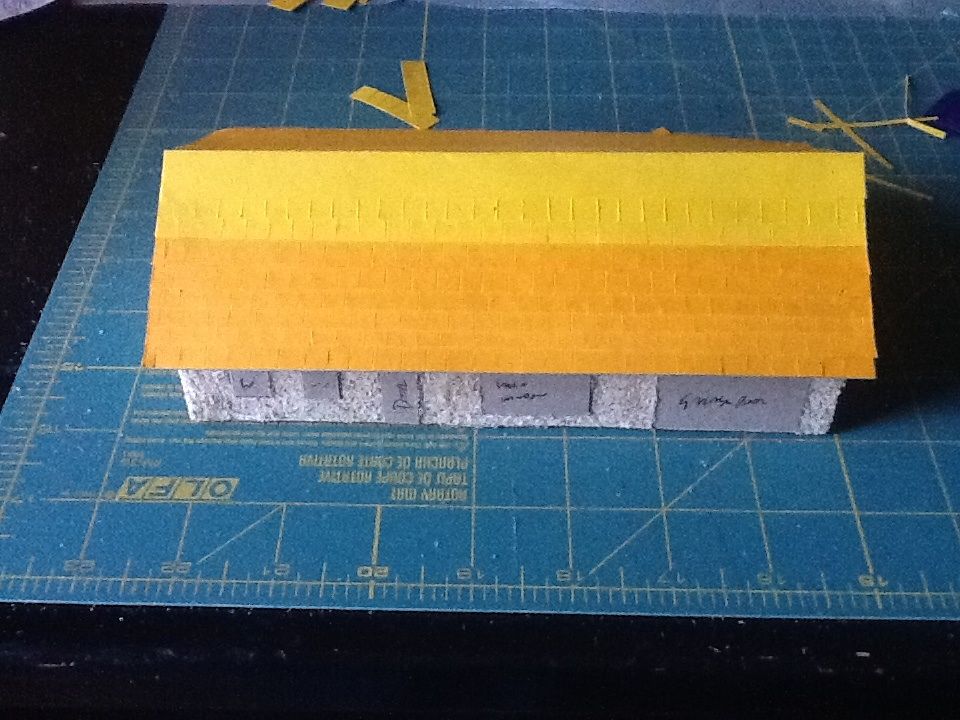 And saw that I needed to add sand to the roof base, on each side, which I did.
Any gaps in the sand are fine, really, as they just show damage or wear over the decades since the house was built. Any gaps that are just too large can be carefully glued and filled.
Tomorrow, I will paint it. I do hope I covered all the foam with glue, else it will be a disaster.