A friend and clubmate, along with his eldest son, opened a game store about 40 minutes south of where I live, last month. So, for this month's club meeting, we drove down to the new store and played a 15mm sci-fi game.
Using a bastardization of some steampunk miniature rules, as well as a large collection of Khurasan and Rebel Minis figures, our umpire, Ryan, put on the game for us. Units were moved individually as each side's players were given one activation at a time, with both sides alternating until all units had been activated. Infantry could move half and still fire, with vehicles rolling at d6 and then adding the result as energy points to their power ratings. The vehicles then used energy to move 2", 4", or 6" inches (depending on the vehicle) per energy point allocated and/or to power up their weapons (taking one or two energy for each weapon), with weapons being able to fire as often as the player could provide the power.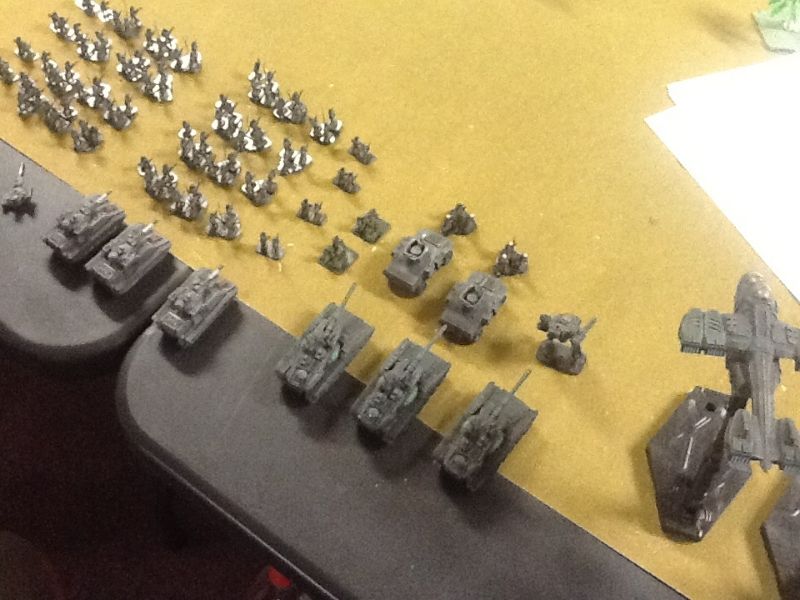 My troops, minus the walker, the platoons on the far left, and one platoon from the center. Essentially, I had three heavy tanks, three APCs, three platoons of infantry, two scout vehicles, two scout infantry, and two mortar teams.
A rather crappy pic of the table.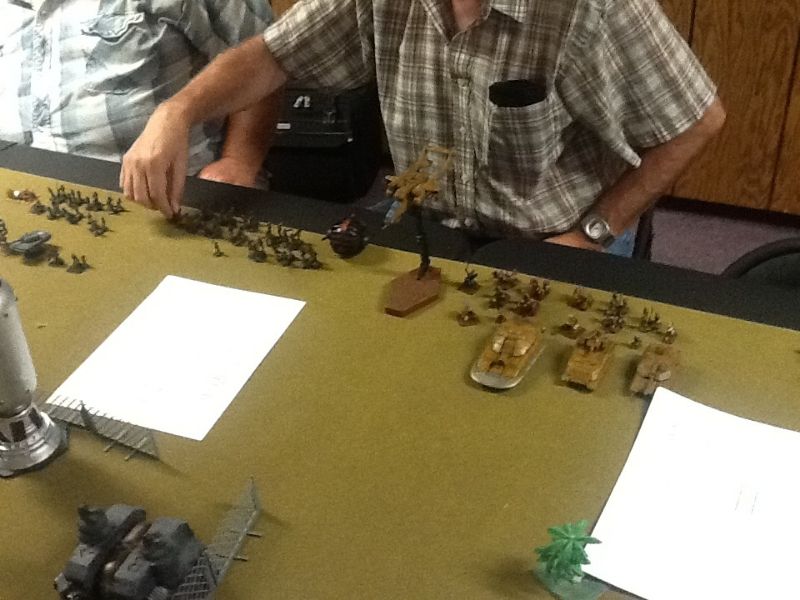 Dave B. setting up his troops. He outnumbered me, considerably, and his few vehicles were superior to my own, unfortunately. He had alien troops which were quite nasty as they had two shots a turn to my own infantry's single shot, per figure.
Just a few moves into the first turn and I have lost one of my heavy tanks, but have been able to take out an enemy APC (which required the combined fire of all three of my heavy tanks!). Those grav tanks and apcs proved to be a real bane for my own vehicles. I felt they were a tad OP as they moved 3 times as fast as my own tanks, had nearly the same armor, and had more firepower and that was just the APCs. The grav tanks had gimmicky weapons (lightning gun!) or more powerful weapons and I faced an onslaught of fire that my own armor could not withstand.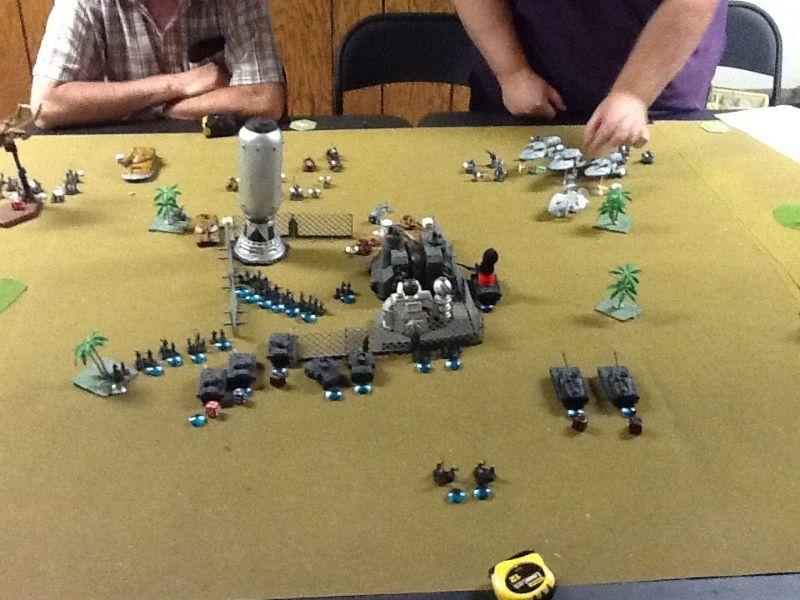 My sector at the end of turn 1. The blue markers were used to show which units had taken an action, which we then removed as each unit acted in the following turn.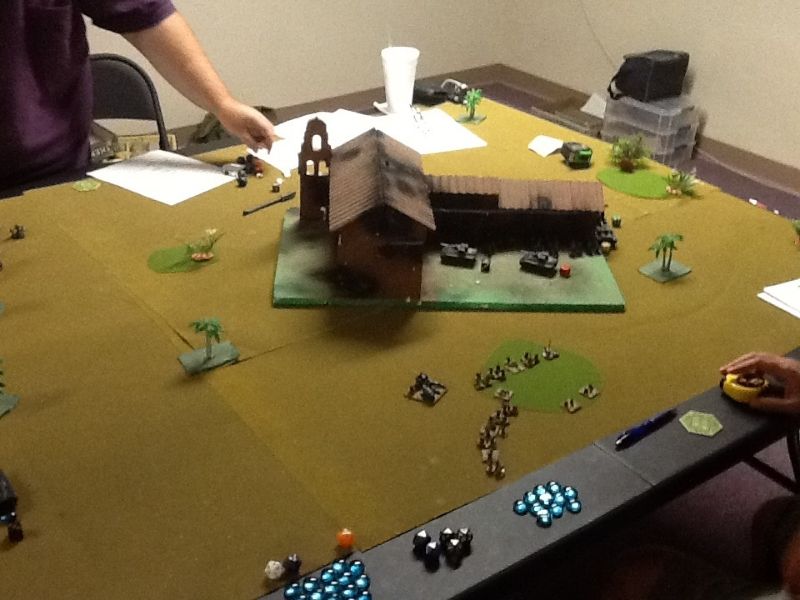 "Friendly forces" on my right flank at the end of turn 1. I put the friendly in quotes because this was about where these troops were at at the end of turn 3. My ally (who shall be added to the Book of Grudges) fired about 4 times all game. Note the opponent facing him came directly at me, so I was facing nearly 3/4 of the enemy with about 1/3 of our army, but my ally took his objective and then didn't budge. Grrrrrr!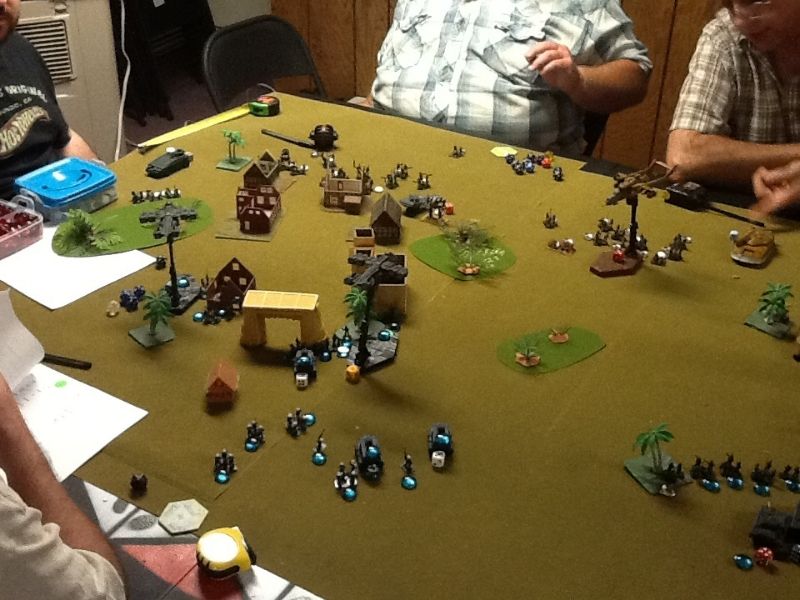 Jeff, on my left, faces the close combat specialist troops of our enemy and also takes the brunt of fire from the enemy heavy vehicles this turn. Jeff remained stuck in until the bitter end, but he too could not hold back the tidal wave of enemy.
My left flank at the end of turn three, which was also the end of the game. Jeff's infantry is shattered and falling back, while the majority of his vehicles are destroyed.
My right flank at the end of the game. On the far side of the building, out of sight, is another of our APCs.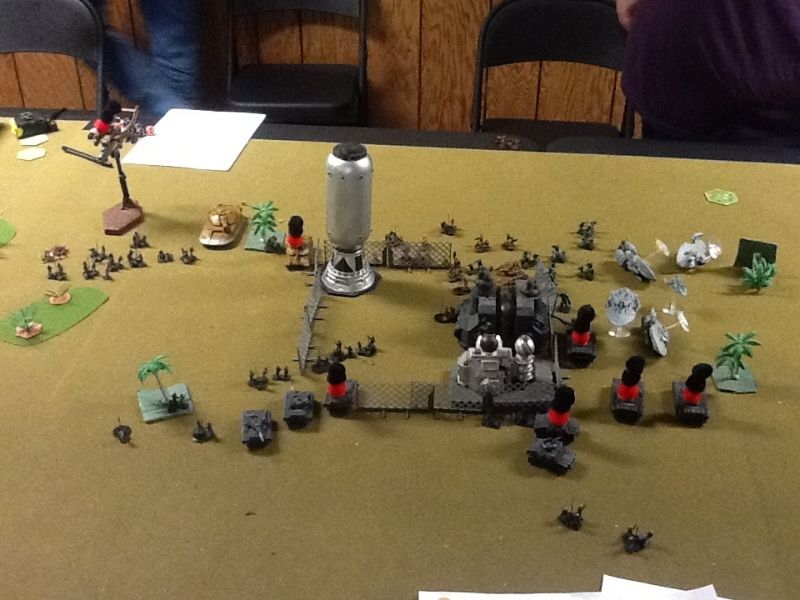 My forces at the end of the game. The two apcs in the foreground are both tracked and without their main guns, effectively hulks. I do have an operating and undamaged scout vehicle, but the rest of my vehicles and 2/3rds of my infantry have been taken out.
Note, aside from their super heavy grav tank and an apc and also a grav apc, the rest of the enemy vehicles in my sector have been destroyed, including their very nasty VTOL gunship. So, while I am forced to retreat, their victory was costly.
The rules were interesting and we players made a few suggestions, which Ryan agreed to take under consideration.
Whenever I sit down to play at a club game, if I am not assigned a role and objective by the umpire, I create one for myself. This way, I do not always play exactly the same and I have personal goals that I attempt to achieve. For this game, I felt my role was to be as aggressive as I could and thus I threw my forces as far forward as possible, while still being able to fire at the enemy. Not pictured was the highwater mark of my infantry, which had made it to the far side of the fenced in compound before being annihilated by the advancing enemy infantry.
I really felt I had no choice as my right flank was not supporting me in the center, although he faced no opposition himself, and I was taking two shots (one per player) for every time one of my units activated and fired. Jeff, on my left, was fighting for his life the whole game and while he was defeated, I cannot fault him for his efforts.
However, my goal of taking out the enemy VTOL gunship and the bulk of his vehicles gave me a moral victory.